Damien Martin Martial Arts Instructor in Helensvale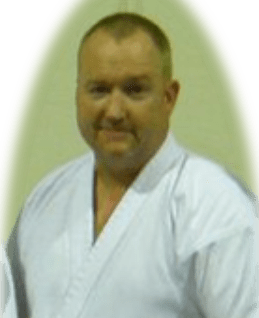 Damien Martin
Damien Martin is the Kaicho of the Southern Cross Martial Arts Association; that is to say, he is the Head Instructor. Damien has been training in the martial arts for over 30 years having initially commenced training in Judo in 1982 and then Zen Do Kai in 1984. Over the past 35+ years he has extended his interest in and explored the history and practices of a variety of martial arts; modern and traditional. Continuing his interest in all aspects of the martial arts he has researched and implemented many traditional aspects into his training, holding a 7th dan in Goki-Kai Karate, a 6th dan in Okinawan Goju Ryu Karate, a 5th Khan in Muay Thai and is a 4th kyu Kudo Sempai. He also trains in Ryukyu Kobudo under the auspices of the Kinjo families Ryukyu Kobudo Hozonkai.
Damien is highly qualified in the martial arts and associated fields and holds instructor qualifications in Okinawan Goju Ryu Karate, Muay Thai Kickboxing and Docé Pares Eskrima. He is a member of a number of internationally recognised martial arts organisations including the International Ryukyu Karate Research Society of Hanshi Patrick McCarthy (9th dan) and the Okinawa Goju Ryu Kenkyukai of Masaji Taira (9th dan, Hanshi), as well as having been inducted into the Australasian Martial Arts Hall of Fame for services to the Martial Arts in 2005. Damien founded Goki-Kai Karate-Do in 2008 when he started the Southern Cross Martial Arts Centre.
Damien worked in the security industry for 18 years where he was constantly exposed to some of the seedier and more violent characters in our society; an environment where techniques, tactics and training methods had to work! He has been lucky enough to travel the world with his work and has trained extensively in the US and the UK; he has also trained extensively in Okinawa, the birthplace of karate.
Currently Damien is the Gold Coast Shibucho (branch Chief) of the Okinawa Goju Ryu Kenkyukai, and the Chief Instructor of the Gold Coast Kudo Doko Kai and runs classes at the Goki-Kai Karate-Do So Honbu Dojo (Headquarters School).
Through his experience running an internationally recognised Registered Training Organisation (RTO) Damien is considered to be a pioneer and expert in scenario based self defence training and has been developing and delivering this training within the national training system for almost two decades.
Outside of the martial arts Damien is a qualified firearms instructor trainer having trained extensively in the USA (H&K International Training Division, PPCT, Warrior Science Group, Smith & Wesson Academy) and currently works as a subject matter expert and consultant on training, interpersonal conflict and violence. He holds a Graduate Certificate in Autism Studies; has extensive undergraduate studies in psychology and criminology; a Certificate IV in Training & Assessment; Diploma of Training & Assessment Systems; Diploma of Sport & Recreation; Diploma of Sport (Coaching); Advanced Diploma of Security (Risk Management); Diploma of Security (Access Management); Certificate IV in Fitness; NCAS Level 1 Club Weightlifting/Sport Power Coach accreditation; NCAS Level 1 Strength & Conditioning Coach; and is a Qld Commissioner for Declarations.
Helensvale's only state of the art Martial Arts Facility