Hannah Thornton Martial Arts Instructor in Helensvale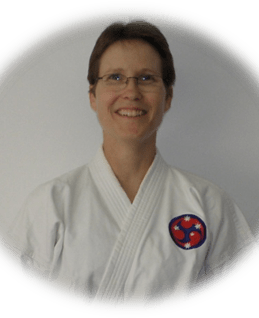 Hannah Thornton
Hannah commenced her martial arts training over 25 years ago in Zen Do Kai and Muay Thai. Hannah was awarded the title of Shihan (teacher of teachers) in 2012. Hannah currently holds the rank of 6th degree black belt in Goki-Kai Karate and 5th degree in Goju Ryu Karate, as well as being a 4th Khan Muay Thai trainer and a 4th kyu Sempai (instructor) in Kudo. She is also a qualified Strength & Conditioning Coach (ASCA).
With over 20 years experience as an instructor Hannah coordinates all of the Kidz Karate programs, the adult Muay Thai class (where she's known as Kru Hannah) and is a senior instructor in the Goki-Kai Karate classes. Hannah is also the lead instructor of the SAFE Defence courses and an instructor trainer in the Nationally Recognised Aggressive Behaviour Management courses.
Hannah continues to train regularly in Muay Thai with Ajarn Geordie of Black Dragon Kai, as well as Karate with Damien and with their instructor, Masaji Taira Sensei (9th dan, Hanshi). Hannah is also a Shibucho (branch Chief) of the Okinawa Goju Ryu Kenkyukai, has trained extensively in Okinawa, and regularly attends seminars to increase her knowledge and skills.
Hannah has over 18 years experience in dealing with violence whilst working in the security industry. Her 'other' qualifications include being an accredited Strength & Conditioning Coach, and holding a Diploma of Management; a Certificate IV in Sport Coaching), a Certificate IV in Operational Safety Training, a Certificate IV in Aggressive Behaviour Management Instructor, a Certificate IV in Security & Risk Management, a Certificate IV in Assessment & Workplace Training, a Certificate IV in Frontline Management, and a Certificate III in Fitness.
Helensvale's only state of the art Martial Arts Facility