Helensvale Kids Martial Arts Classes
Beginner Kids Martial Arts Classes Enrolling In October
Want an action-packed Kids Martial Arts class that will help you see a side of your child you've never seen before? Kids Martial Arts classes at Southern Cross Martial Arts bring out the inner champion in every child by giving kids a great workout and imparting valuable skills like leadership, self-confidence, self-discipline and self-defence skills that kids can't get from any other extracurricular activity.
At Southern Cross Martial Arts, our instructors are dedicated, highly-experienced and have devoted years to training. Today, they are qualified teachers and mentors. Our results-driven team is dedicated and driven to improve your child's life through martial arts.
THE LIFE SKILLS PROVIDED BY MARTIAL ARTS IN HELENSVALE IS NOT ONLY USEFUL BUT NECESSARY!
Southern Cross Martial Arts doesn't stop at just a great workout and top-notch self-defence skills - our Kids Martial Arts program will help your child feel like a champ, too. We offer a safe environment to train and all our students love training in our facility. Training at Southern Cross Martial Arts can be one of the best decisions you can make for your son or daughter.
In fact, our Kids Martial Arts classes in Helensvale will give your child a world of benefits unavailable from any other extracurricular activity! Just take a look:
Learn safe and easy-to-learn Karate techniques
Improved focus and concentration that leads to improved grades and conduct
Increased self-esteem, self-confidence and self-awareness
Learn stranger awareness and what to do in bullying situations
Develop respect for themselves, their peers and their community
It doesn't matter if your child has never stepped inside of a dojo before - at Southern Cross Martial Arts, we cater to kids of all ages and skill levels.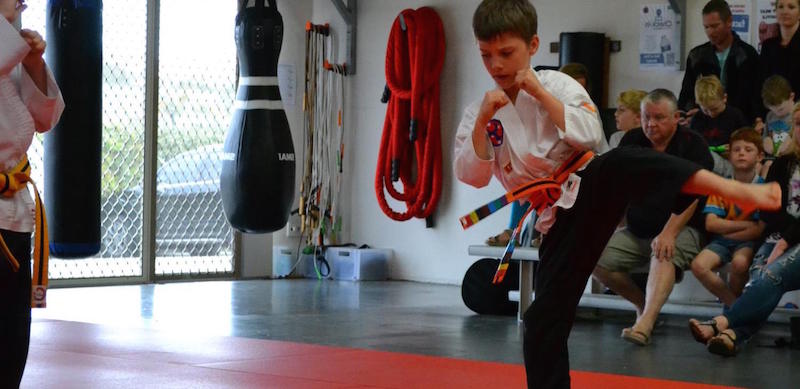 A REWARDING EXPERIENCE FOR KIDS STARTING THIS MONTH!
Just fill out the short form on the side of this page to get all the information you need to get started with these amazing Kids Martial Arts programs in Helensvale!
kids martial arts Program Age Groups
From Age 3 To 4 (Little Dragons)
From Age 5 To 7 (Junior Dragons)
From Age 8 To 12 (Red Dragons)
From Age 13 To 15 (Youth Karate)
From Age 8 To 12 (Kids Muay Thai)
Helensvale's only state of the art Martial Arts Facility